Laboratory: soil hydraulic characteristics
The extended evaporation process (EEM) with HYPROP (HYdraulic PROPerty analyzer) as a measuring device enables the simultaneous process analysis of the water retention curve (pF curve), the unsaturated hydraulic conductivity function (K-function) and the dry bulk density of core cylinder samples (100 and 250 cm3) in the laboratory. In addition, hysteresis and shrinkage can be quantified.
Measuring principle:
The soil sample is saturated with water. Two tensiometers are placed in the sample (Figure 1), the sample is placed on a scale, the sample surface is exposed to free evaporation, and the tension and the sample mass are measured at regular intervals with the HYPROP system. The data recording and evaluation (Fig. 2) are computer-based
Measuring range: 0 to 6000 hPa
Measuring time: 2 to 10 days
Measuring accuracy: 1 hPa

Fig. 1: Evaporation process: left – schematic diagram, right – HYPROP (Photo Assembly: UMS AG Munich)
Fig. 2: Screenshot from HYPROP Fit Software (UMS AG Munich)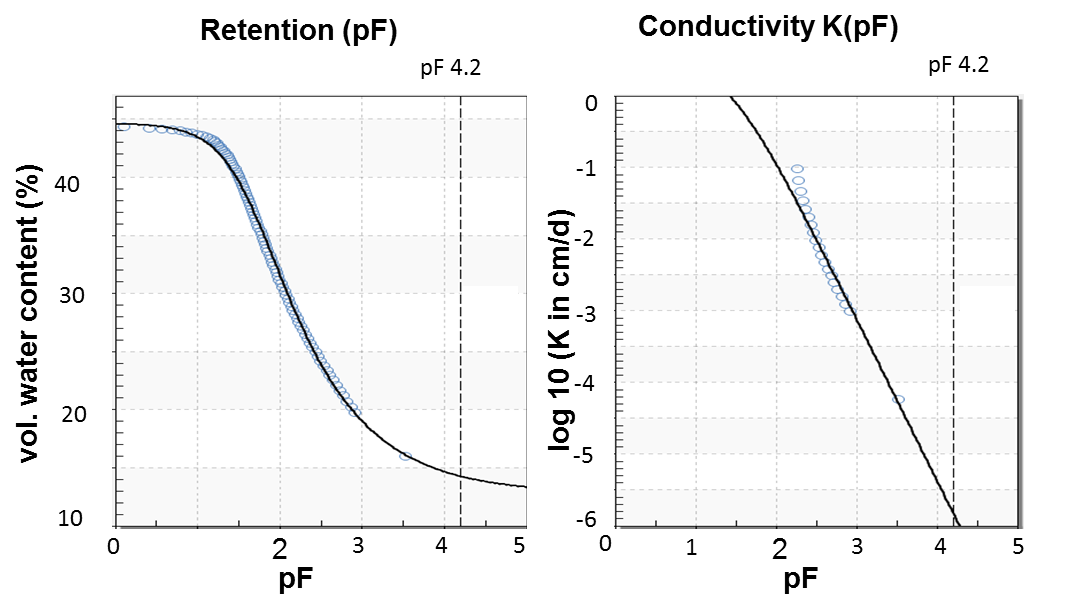 Schindler, U. (1980): Ein Schnellverfahren zur Prozessanalyse der Wasserleitfähigkeit im teilgesättigtenBoden an Stechzylinderproben. Arch. Acker- u. Pflanzenbau u. Bodenkd., Berlin 24, 1, 1-7.
Schindler, U.; Bohne, K.und R. Sauerbrey (1985): Comparison of different measuring and calculating methods to quantify the hydraulic conductivity of unsaturated soil. Z. Pflanzenernähr. Bodenkd., 148, 607-617.
Schindler, U. (1989): Einfluß der Trockenrohdichte und Humusgehalt auf die Porengrößenverteilung und hydraulische Leitfähigkeit von Sandsubstraten. Arch. Acker- u. Pflanzenbau u. Bodenkd., Berlin 33, 1, 3-9.
Schindler, U. (1992): Calculation of the Hydraulic Conductivity with an Evaporation Method- Methodical aspects. In Proceedings of the International Agricultural Engeneering Conference, Dec. 7-10, Bangkok, Thailand, Vol. III, 905-910. (Diese Publikation wurde erstellt am Leibniz-Zentrum für Agrarlandschaftsforschung (ZALF) e.V.)
Schindler, U. (1993): Methodische Aspekte zur Bestimmung der hydraulischen Leitfähigkeit mit einem Verdunstungsverfahren. In: Mitteilungen Dtsch. Bodenkundl. Ges.,71, 177-180. (Diese Publikation wurde erstellt am Leibniz-Zentrum für Agrarlandschaftsforschung (ZALF) e.V.)
Schindler, U. (1993): Entwicklung und Testung eines lichtelektrischen Korngrößenanalysengerätes und Einfluß der Dispergierung auf die Korngrößenanalyse. In: Mitteilungen Dtsch. Bodenkundl. Ges.,72, 227-231. (Diese Publikation wurde erstellt am Leibniz-Zentrum für Agrarlandschaftsforschung (ZALF) e.V.)
Beisecker, R. und U. Schindler. (1993): Überprüfung der Bedingungen des Verdunstungsverfahrens zur Prozessanalyse der hydraulischen Leitfähigkeit und Vergleich von gemessenen mit vorhergesagten ku- Funktionen des mehrmodalen pF-WG-Modells SHYPFIT: In: Mitteilungen Dtsch. Bodenkundl. Ges.,72, 59-62. (Diese Publikation wurde erstellt am Leibniz-Zentrum für Agrarlandschaftsforschung (ZALF) e.V.)
Schindler U. and L. Müller (1994): Measuring and calculating the unsaturated hydraulic conductivity – Technical requirements and measuring accuracy. In: Proceedings of the 13th International ISRTO Conference, Aalborg (DK), Vol.1, 579-584. (Diese Publikation wurde erstellt am Leibniz-Zentrum für Agrarlandschaftsforschung (ZALF) e.V.)
Schindler, U. und L. Müller (1995): Ein kombiniertes Verfahren zur Messung der ungesättigten hydraulischen Wasserleitfähigkeit an Stechzylinderproben. Arch. Acker- Pfl. Boden, 39 (3), 189 – 196. (Diese Publikation wurde erstellt am Leibniz-Zentrum für Agrarlandschaftsforschung (ZALF) e.V.)
Schindler, U., Müller, L. (2006) Simplifying the evaporation method for quantifying soil hydraulic properties. Journal of Plant Nutrition and Soil Science 169, 5, 623-629. (Diese Publikation wurde erstellt am Leibniz-Zentrum für Agrarlandschaftsforschung (ZALF) e.V.)
Schindler, U., Durner, W., Unold, G. v., Müller, L. (2010) Evaporation method for measuring unsaturated hydraulic properties of soils: extending the measurement range. Soil Science Society of America Journal 74, 4, 1071-1083. (Diese Publikation wurde erstellt am Leibniz-Zentrum für Agrarlandschaftsforschung (ZALF) e.V.)
Schindler, U., Müller, L., da Veiga, M., Zhang, Y., Schlindwein, S. L., Hu, C. (2012) Comparison of water-retention functions obtained from the extended evaporation method and the standard methods sand/kaolin boxes and pressure plate extractor. Journal of Plant Nutrition and Soil Science 174, 4, 527-534. (Diese Publikation wurde erstellt am Leibniz-Zentrum für Agrarlandschaftsforschung (ZALF) e.V.)
Schindler, U., Durner, W., Unold, G. v., Müller, L., Wieland, R. (2010) The evaporation method: extending the measurement range of soil hydraulic properties using the air-entry pressure of the ceramic cup. Journal of Plant Nutrition and Soil Science 173, 4, 563-57. (Diese Publikation wurde erstellt am Leibniz-Zentrum für Agrarlandschaftsforschung (ZALF) e.V.)
Schindler, U., Unold, G. v., Müller, L. (2015) Laboratory measurement of soil hydraulic functions in a cycle of drying and rewetting. International Journal of Emerging Technology and Advanced Engineering 5, 4, 281-286. (Diese Publikation wurde erstellt am Leibniz-Zentrum für Agrarlandschaftsforschung (ZALF) e.V.)
Schindler, U., Doerner, J., Müller, L. (2015) Simplified method for quantifying the hydraulic properties of shrinking soils. Journal of Plant Nutrition and Soil Science 178, 1, 136-145. (Diese Publikation wurde erstellt am Leibniz-Zentrum für Agrarlandschaftsforschung (ZALF) e.V.)